We decided to combine two of the most famous hops in our newest flavour. We brewed this hop water differently from our two other flavours. We reduced the bitterness a tad bit in order to get a more tropical and citrus flavour, and aroma from the hops. With notes of peach, grapefruit, and lemon, this refreshing bevvy will be a new addition to your daily health routine to experience the functional benefits, and when you're looking to cut back on alcohol.
Share
View full details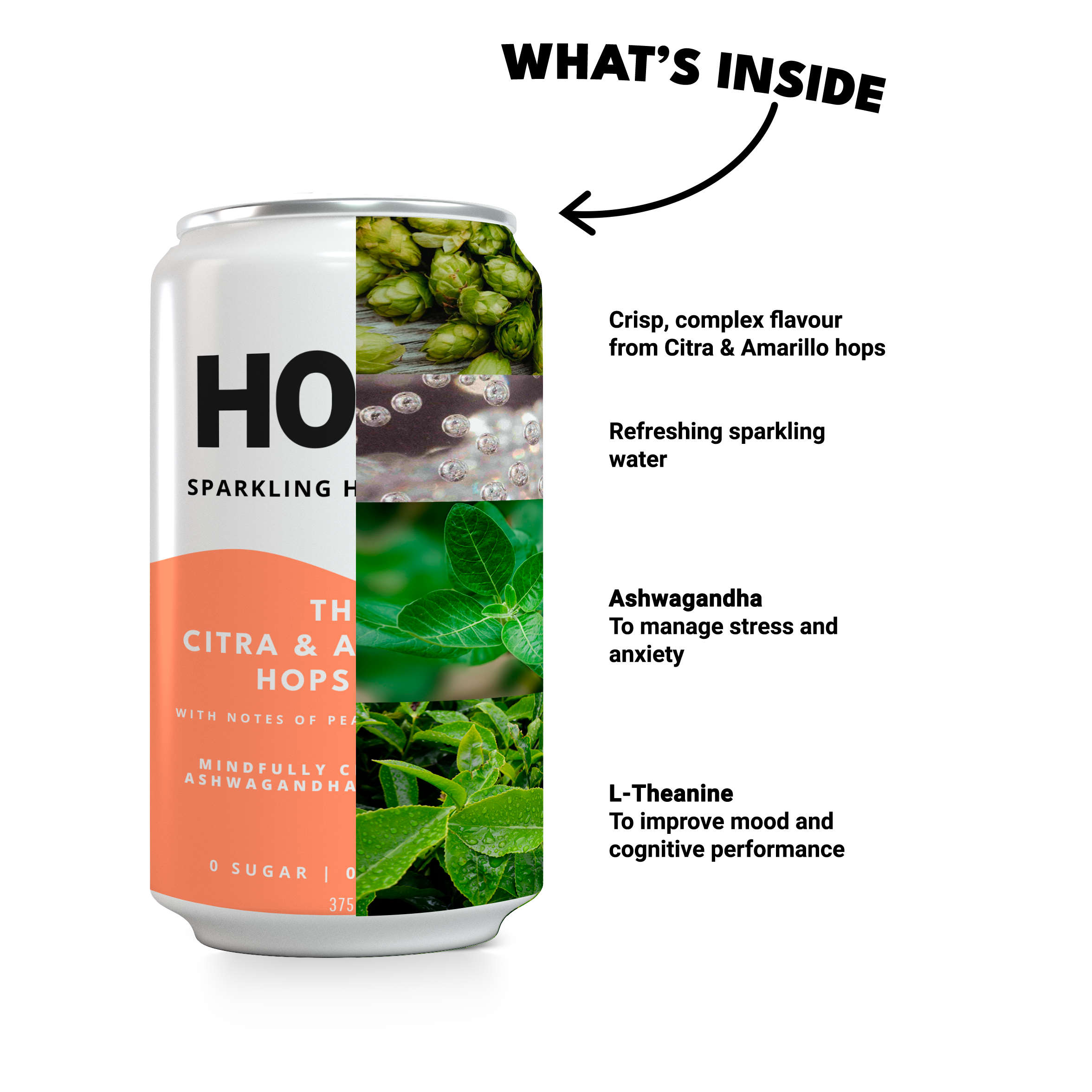 How You'll Benefit
Ashwagandha, an herb, has science-backed research to help reduce stress and anxiety
L-Theanine, an amino acid found in green and black tea, helps improve mood, focus, and concentration
It's the perfect alcohol replacement to unwind with after work
Have trouble sleeping? Have some before bed to improve sleep
The ingredients work together over time to adapt to your body. Experience the short and long-term benefits by adding HOPR to your daily routine
You May Be Wondering
Ingredients

Filtered carbonated Water, Hops, Potassium Sorbate, Citric Acid, L-Theanine, Ashwagandha Root Extract.
Disclaimer

Not recommended to consumers who are pregnant. 
Shipping

We ship within 24-48 hours. Sometimes even the same day!

Rates will be calculated at checkout.

Free Shipping over $99

*WA, NT, TAS: Orders of $150+ qualify for Free Shipping
But, why is it so expensive?
We're not just a carbonated flavoured water like other non-alcoholic drinks. We're more than that. We use premium ingredients, with science-backed research, that have functional benefits for your mind and body. So grab some HOPR, sit back and enjoy a refreshing bevvy that tastes delicious and is good for you.
Love it!
Just ordered a sampler of this and the citra and they're great - a really good alternative to beer. They're not at all sweet and they taste refreshing and more alcohol-like than most of the other alcohol free options out there.
Glad to be back!
The first thing I did upon my return to Sydney after six months in the UK was order me some of my favourite bevy. I missed my HOPR so much! Loving the new flavour and my previous favourite mango ♥️♥️
My Fav
This is the best of the lot. As much as I love beer, this is the closest one to me selecting over a beer.
A good alternative to beer. Has a summer / tropical taste. Zero calories and great taste make it a winner for me.
Refreshing and relaxing
This is the only flavour I have tried but I love it - I bought a 16 peck and have almost finished them already. It reminds me of a craft beer in flavour but without the bloated feeling or calories. I find it has a placebo alcohol effect on me and I feel fuller like I do after a beer. Will be a regular purchaser.