New look and name, same taste. Our OG (the blue can) has become The Citra Hops One.
Citra hops are commonly used in craft beer. It's been said that this one tastes more like a beer than some non-alcoholic beers. It's no wonder it's become our best seller. You'll get delicious floral and citrus aroma and flavour - think lychee and elderflower.
Share
View full details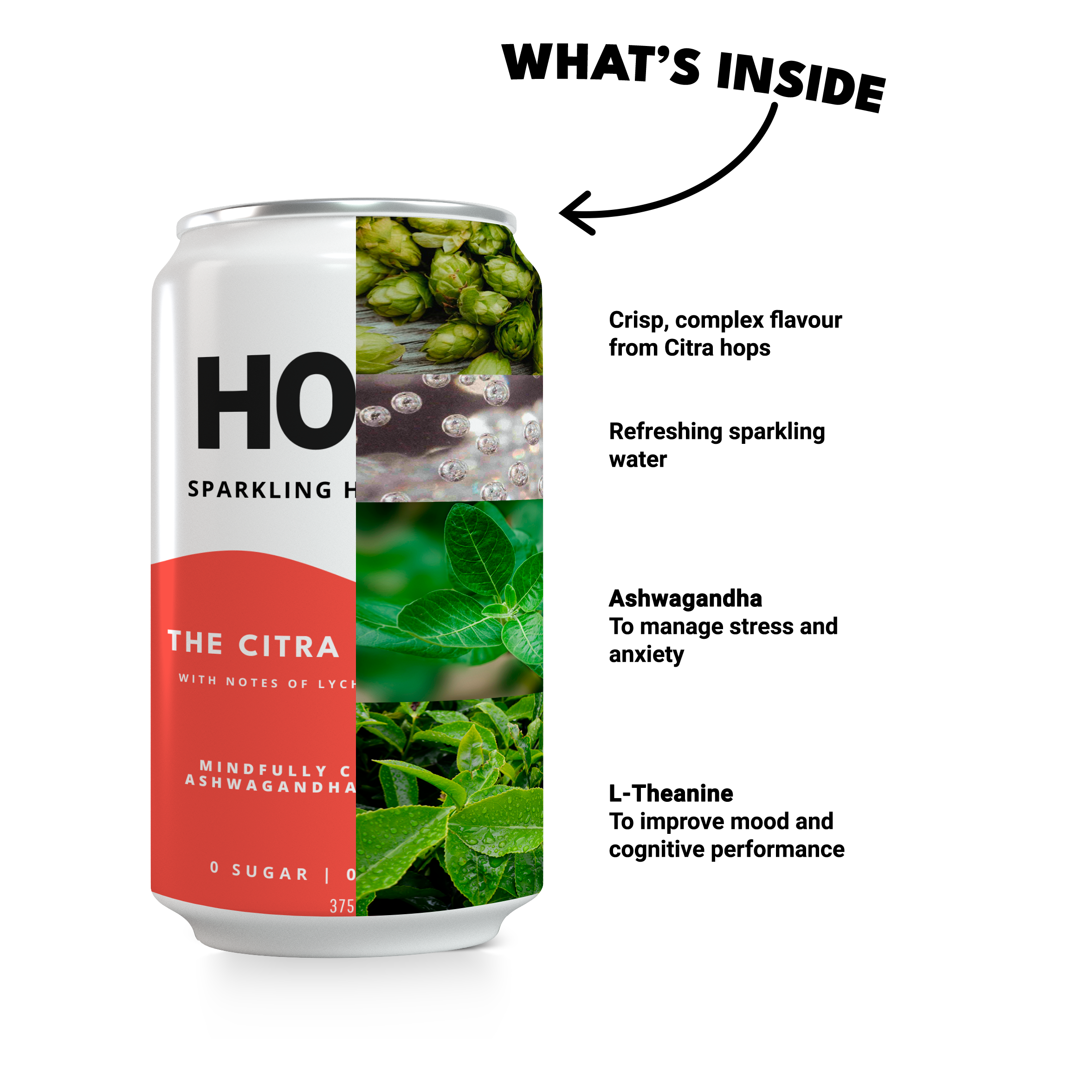 How You'll Benefit
Ashwagandha, an herb, has science-backed research to help reduce stress and anxiety
L-Theanine, an amino acid found in green and black tea, helps improve mood, focus, and concentration
It's the perfect alcohol replacement to unwind with after work
Have trouble sleeping? Have some before bed to improve sleep
The ingredients work together over time to adapt to your body. Experience the short and long-term benefits by adding HOPR to your daily routine
You May Be Wondering
Ingredients

Filtered carbonated Water, Hops, Potassium Sorbate, Citric Acid, L-Theanine, Ashwagandha Root Extract.
Disclaimer

Not recommended to consumers who are pregnant. 
Shipping

We ship within 24-48 hours. Sometimes even the same day!

Rates will be calculated at checkout.

Free Shipping over $99

*WA, NT, TAS: Orders of $150+ qualify for Free Shipping
But, why is it so expensive?
We're not just a carbonated flavoured water like other non-alcoholic drinks. We're more than that. We use premium ingredients, with science-backed research, that have functional benefits for your mind and body. So grab some HOPR, sit back and enjoy a refreshing bevvy that tastes delicious and is good for you.
Love it!
Have tried all the flavours and this is our favourite, we have replaced our evening beers with Hopr and feel so much for it. Would 100% recommend giving it a go.
Feel so much better drinking Hopr
Relaxes me. Would rather drink Hopr anyday. Hate it when I run out! I'm
Love It!
I never drink beer so was sceptical about a hops drink in the beginning but I LOVE it. So refreshing. I love that I can drink it a socials and not feel like I am missing out on real bubbly. The Citrus & Amarillo is my favourite.
Absolutely fab
This is great and refreshing!
A good alternative to beer. Has a good beer taste with good hop flavouring. Zero calories and great taste make it a winner for me.