You'll get two 4-packs of each of the two flavours you choose.
Enjoy the taste of lychee and elderflower with The Citra Hops One (formally known as The OG One/the blue can),  juuuuust the right amount of mango flavour with a tasty hop finish with The Mango One, the deliciousness of

 

peach and grapefruit from The Citra & Amarillo Hops One and, last but not least, our newest flavour The Passionfruit One.
View full details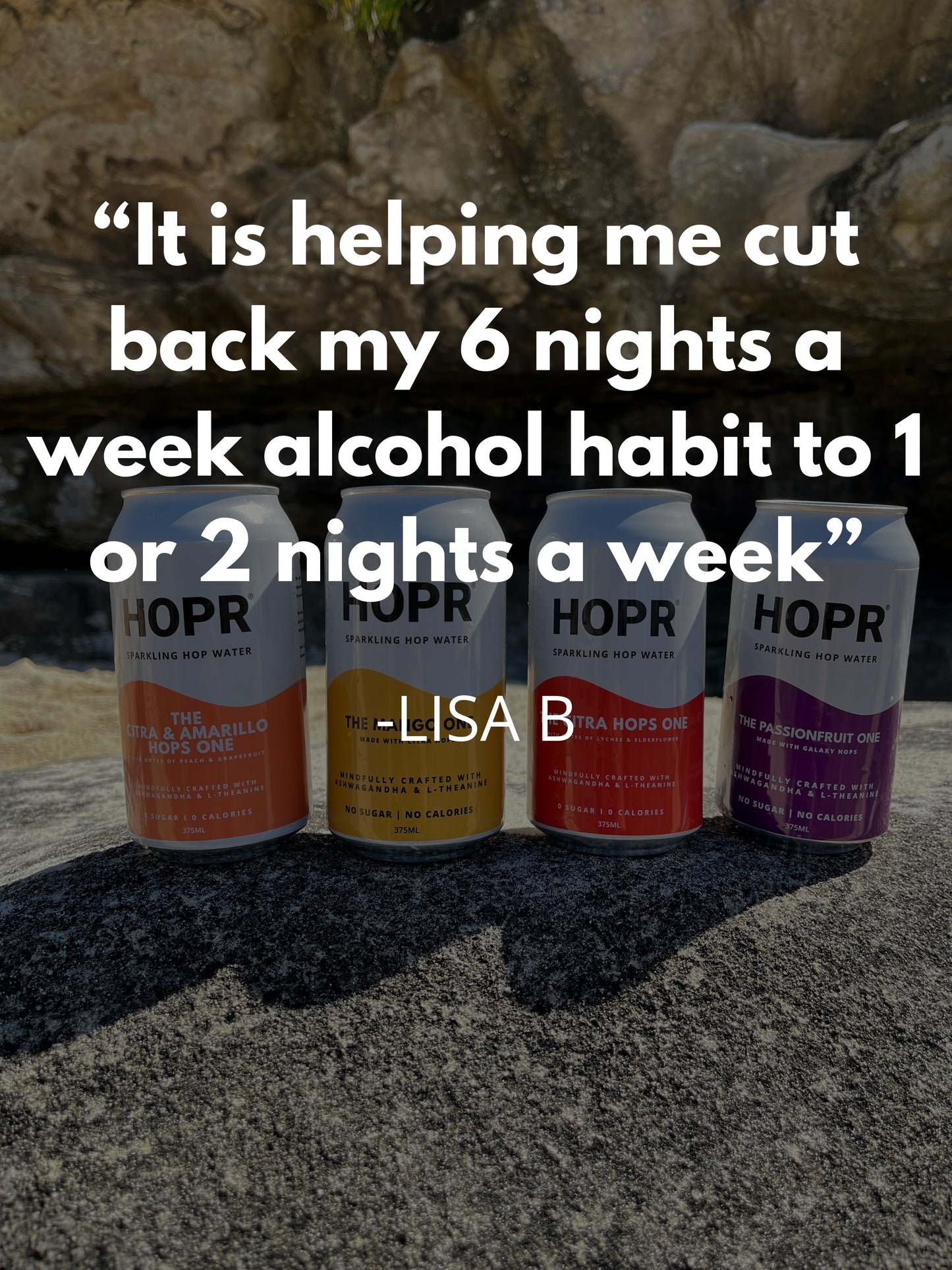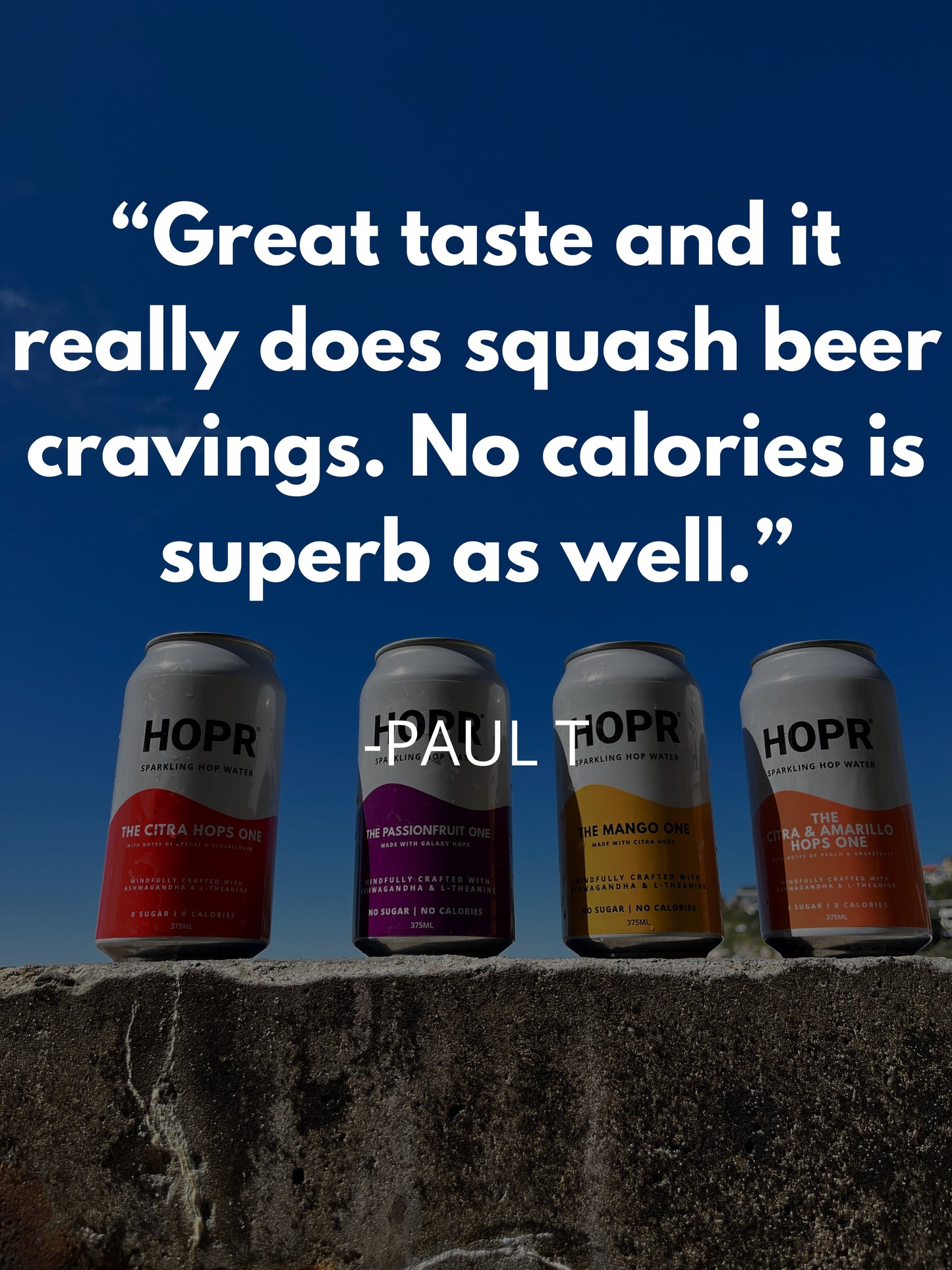 You May Be Wondering
Ingredients

Filtered Carbonated Water, Hops, KSM-66 Ashwagandha Root Extract, L-Theanine, Natural Flavour (The Mango One, and The Passionfruit One only),Potassium Sorbate, Citric Acid.
Disclaimer

Not recommended to consumers who are pregnant. Consult your GP if you're unsure HOPR is right for you.
Shipping

We ship within 24-48 hours. Sometimes even the same day!

Rates will be calculated at checkout.

Free Shipping over $99

*WA, NT, TAS: Orders of $150+ qualify for Free Shipping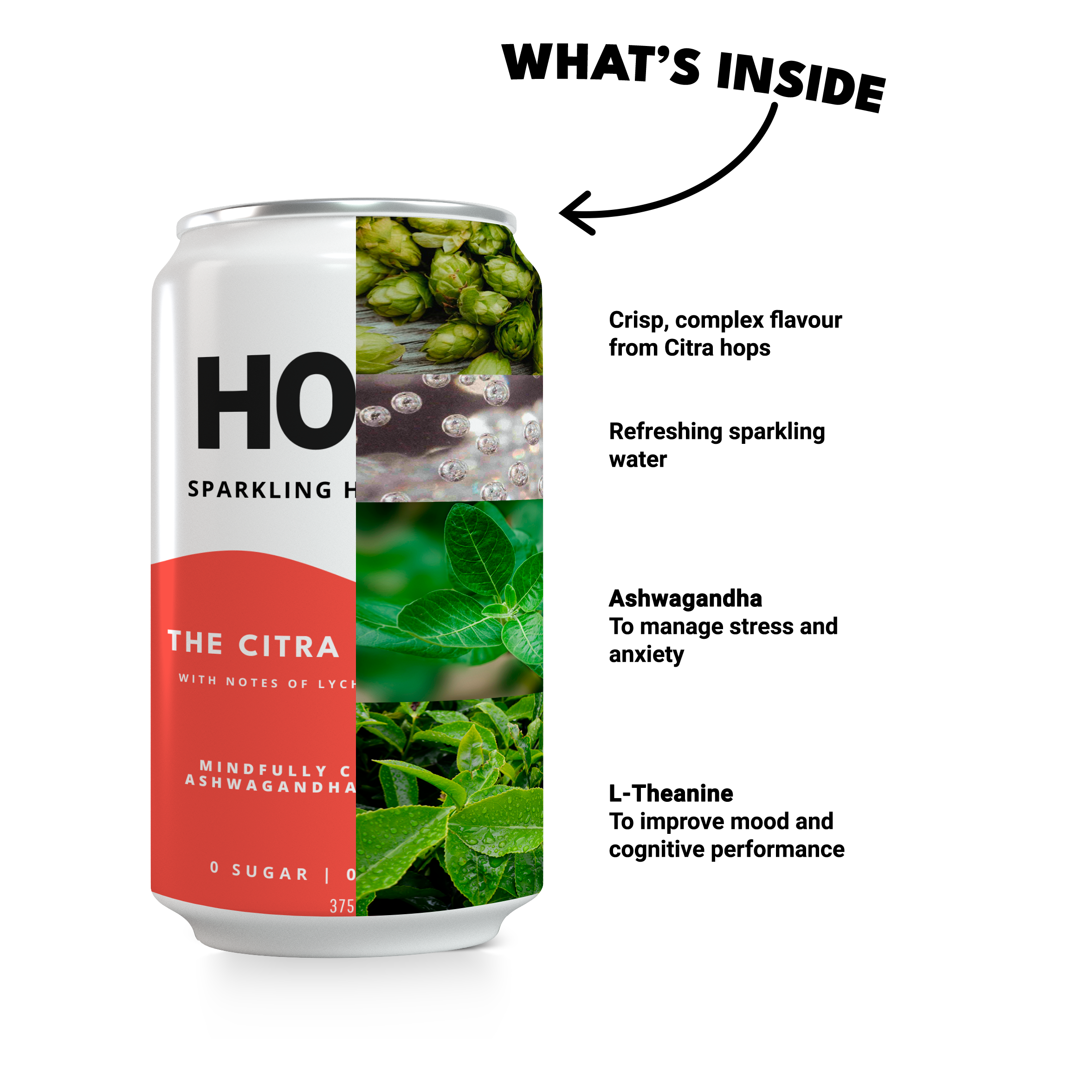 WHY SHOULD I SWITCH TO HOPR? IT'S SIMPLE
When HOPR was started in a small kitchen in 2020, we knew the future of social drinking would be a beverage like HOPR. Even though people laughed, we knew our drinks would help people cut back on alcohol because it would:
Include functional ingredients that have numerous studies behind them, so you experience short and long-term goodness for your mind and body
Have zero sugar because obesity is a serious issue
Look adult so you can fit in with your mates
Be the perfect alcohol replacement to unwind with after work
Be a drink you can drink at anytime without feeling judged
Taste is subjective. We think you should see all opinions (unless they're nasty comments) because no drink is perfect.
Daughter says is delicious!
If you're eating and drinking well and off alcohol this is a great replacement for an alcoholic beverage. It does having a relaxing effect too.
Mixed case
I love this product, I have just ordered x2 more cases
HOPR for afternoon refreshments
This is a fab product, easy drinking with loverly flavours.. great afternoon refresher.. highly recommend ..
Hopr sample pack
So yummy and refreshing. Enjoyed with ice and due to the taste it tricked my mind into feeling like i was drinking an alcoholic drink. Relaxing. My only gripe is i wish it was more affordable.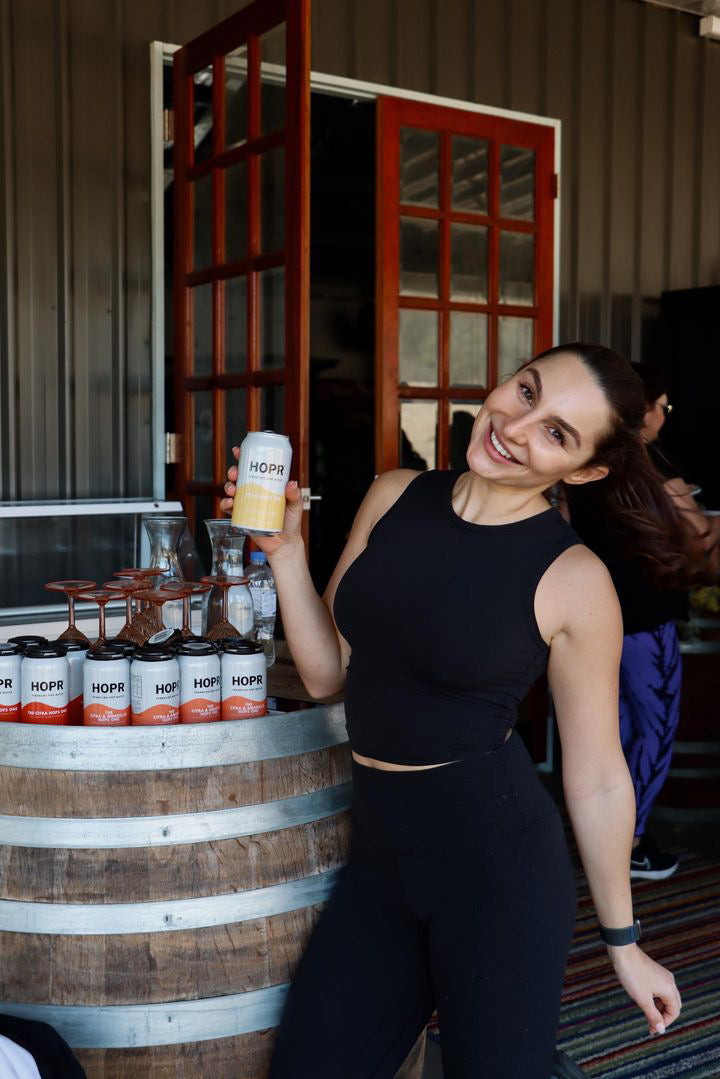 CUSTOMERS DESCRIBE HOPR AS "LIFE CHANGING" - HERE'S WHY
Aussies, and others across the world, are focusing more on their health than ever before. This includes cutting back on alcohol.
Many companies jumped on the alcohol alternative bandwagon to replicate the taste of alcohol. These, however, are heavy on the sugar, carbs, and calories after having a few.
We wanted to make an alcohol alternative that may taste like a refreshing beer to some, but most importantly be a healthier alternative that has zero sugar, zero carbs, and zero calories.
By adding science-backed, functional ingredients into HOPR, we're also helping you give your mind and body short and long-term benefits.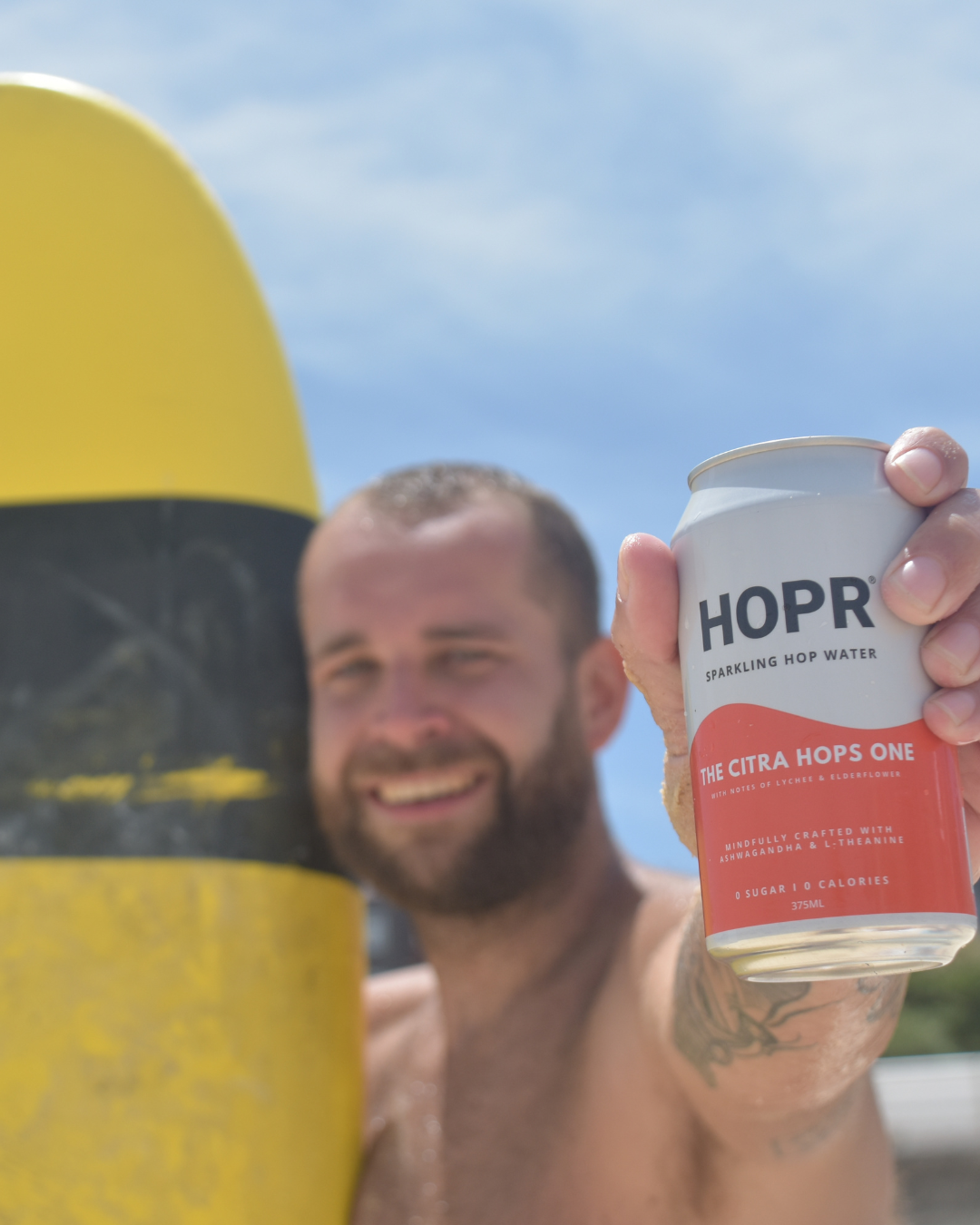 WE CANNOT WAIT FOR YOU TO EXPERIENCE HOPR
Whether you're unwinding at home, or out with your mates, if you're not drinking HOPR, you are not giving your mind and body the loving it needs.
Our functional ingredients have heaps of research behind them, a couple can be found here and here. Be sure to do your own research to see if HOPR is right for you, though. We know it's for us and the thousands of Aussies that have tried it.
We cannot wait to hear about your first sip of HOPR
HOW YOU'LL BENEFIT WITH HOPR
Reduce Alcohol Cravings

"I feel like I'm drinking an "adult" drink even though I'm not. It's the only one I've found that I don't crave alcohol with. "

- Kate

Relaxation Vibes

I didn't believe such a drink could make you feel relaxed and calm. I tried it and for the first time in years I thought of absolutely nothing ! So relaxed 😌.

- Lisa

Sleep Better

"I drank it at my brothers bucks, I had a couple of ciders and then started drinking these. I had a great sleep that night where usually drinking alcohol ruins my sleep"

- Sam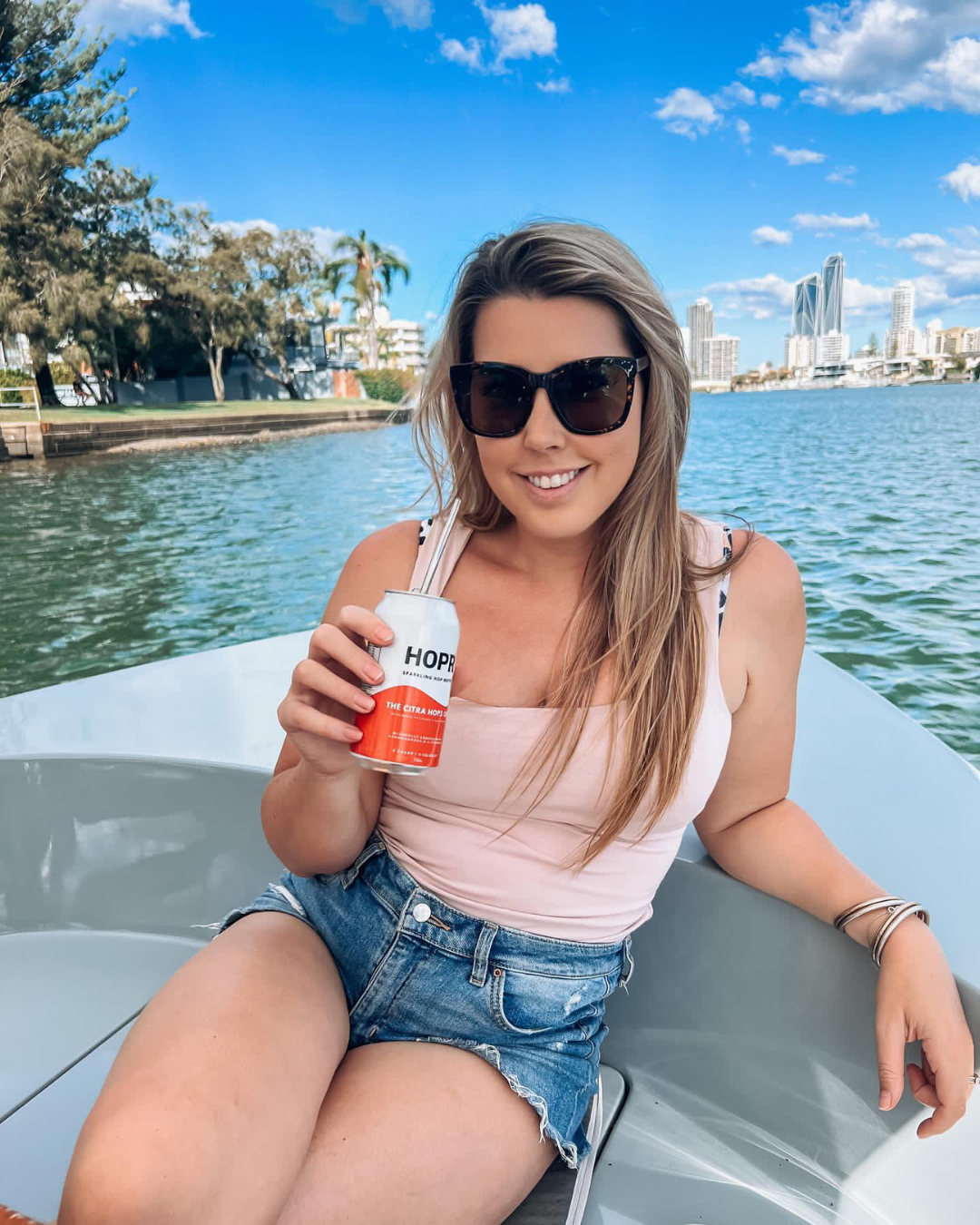 WE CREATED THE BEST AUSSIE NON-ALCOHOLIC BEVERAGE
We didn't declare it. Our customers did. You could ask Ken from NSW who bought 11 cases after trying us out. Or Rob from VIC who has been a subscriber for nearly two years, and then there's Bea from VIC who's grateful she's found us to help her lead a healthier lifestyle.
We don't need to pay for awards to have a couple of people dressed up in suits tell us we've made a great drink. Yup, brands pay for those shiny medals you see on the gram.
We don't care about awards. We prefer to spend our little funds to build a community and provide value through partnering up with mental health awareness organisations, and 1% for the Planet where we donate 1% of our sales to environmental initiatives.
We're changing lives by creating beverages for a community of like-minded individuals who are looking to cut back on alcohol and remove the stigma that's it's not cool to not drink. And this is why our competitors are copying everything that we do.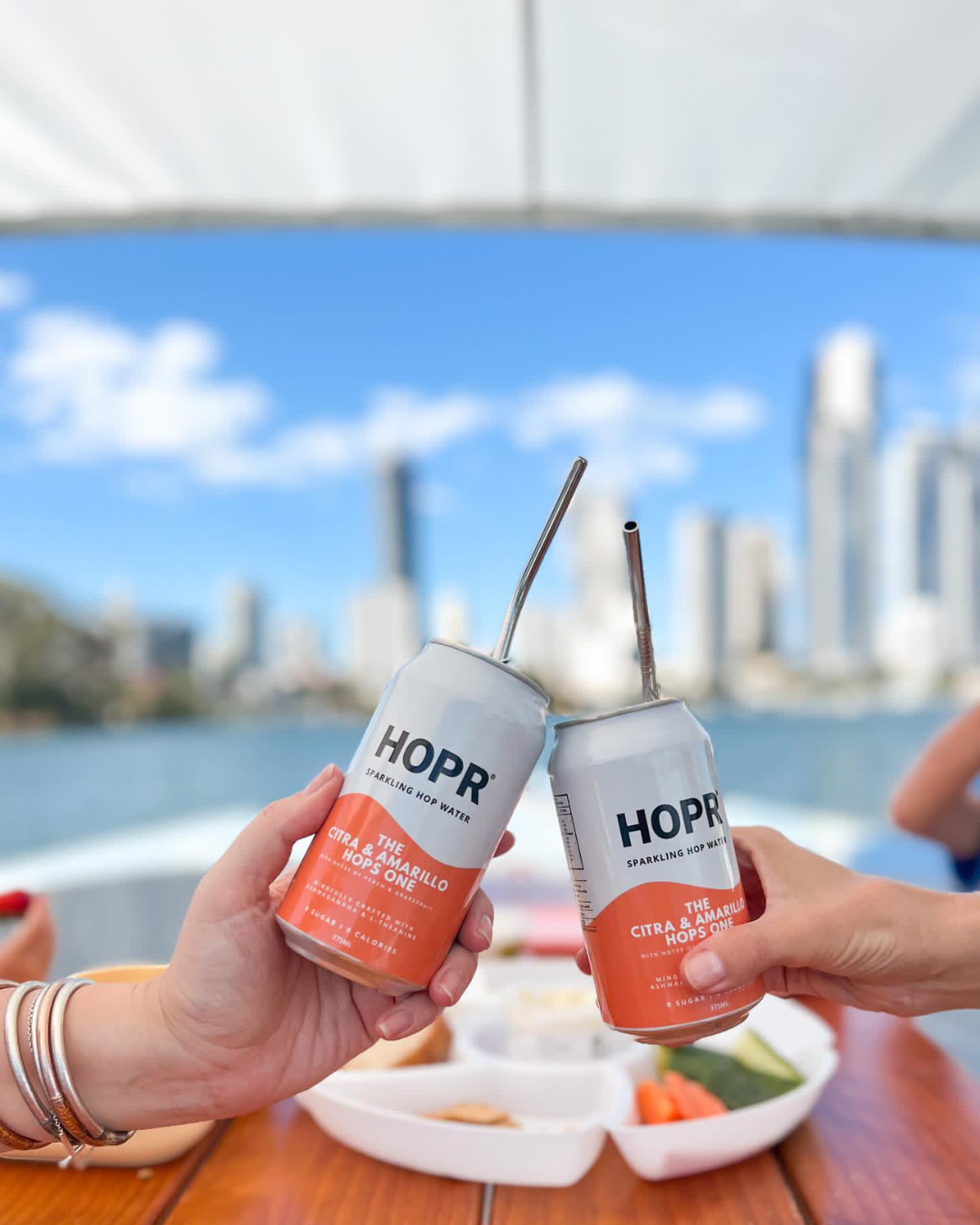 WONDERING WHAT HOPR TASTES LIKE?
Some describe it as an IPA or a Pale Ale.
Many have shared that it tastes better than other companies' NA beers.
We like to say it tastes like what an adult beverage that has mindful benefits should taste like - refreshing, crisp, not too sweet, while giving you the peace of mind that your drink is doing something good for your mind and body.
But, why is it so expensive?
We're not just flavoured water like other non-alcoholic drinks. We're more than that. We use premium ingredients, with science-backed research, that have functional benefits for your mind and body. So grab some HOPR, sit back and enjoy a refreshing bevvy that tastes delicious and is good for you.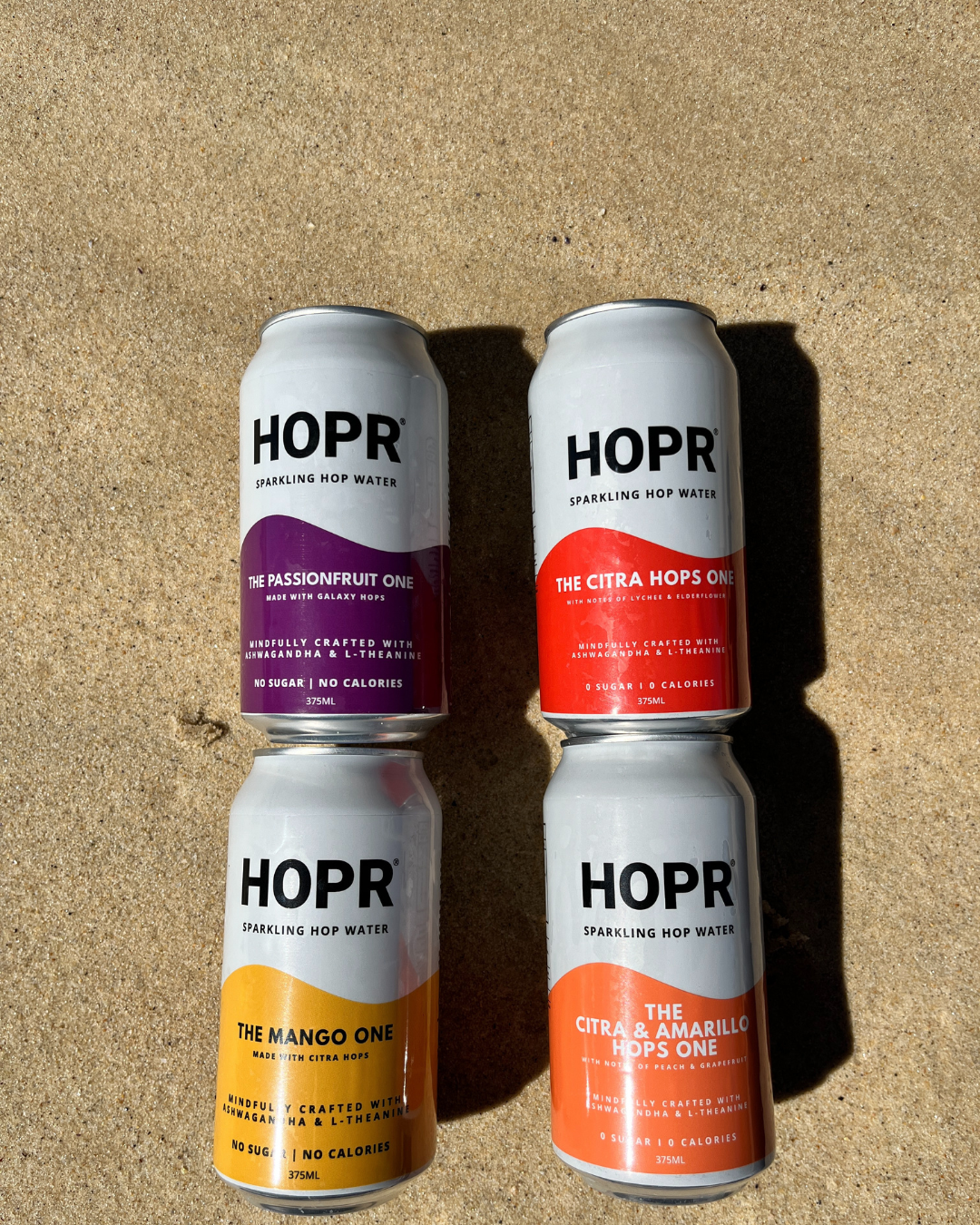 JOIN THE HUNDREDS OF CUSTOMERS THAT SUBSCRIBE TO HOPR
In todays world, money can be tight. We get our drinks aren't cheap but, come to think of it, nothing good for you is cheap.
You can save 10% by subscribing to HOPR. Modify or cancel at any time.